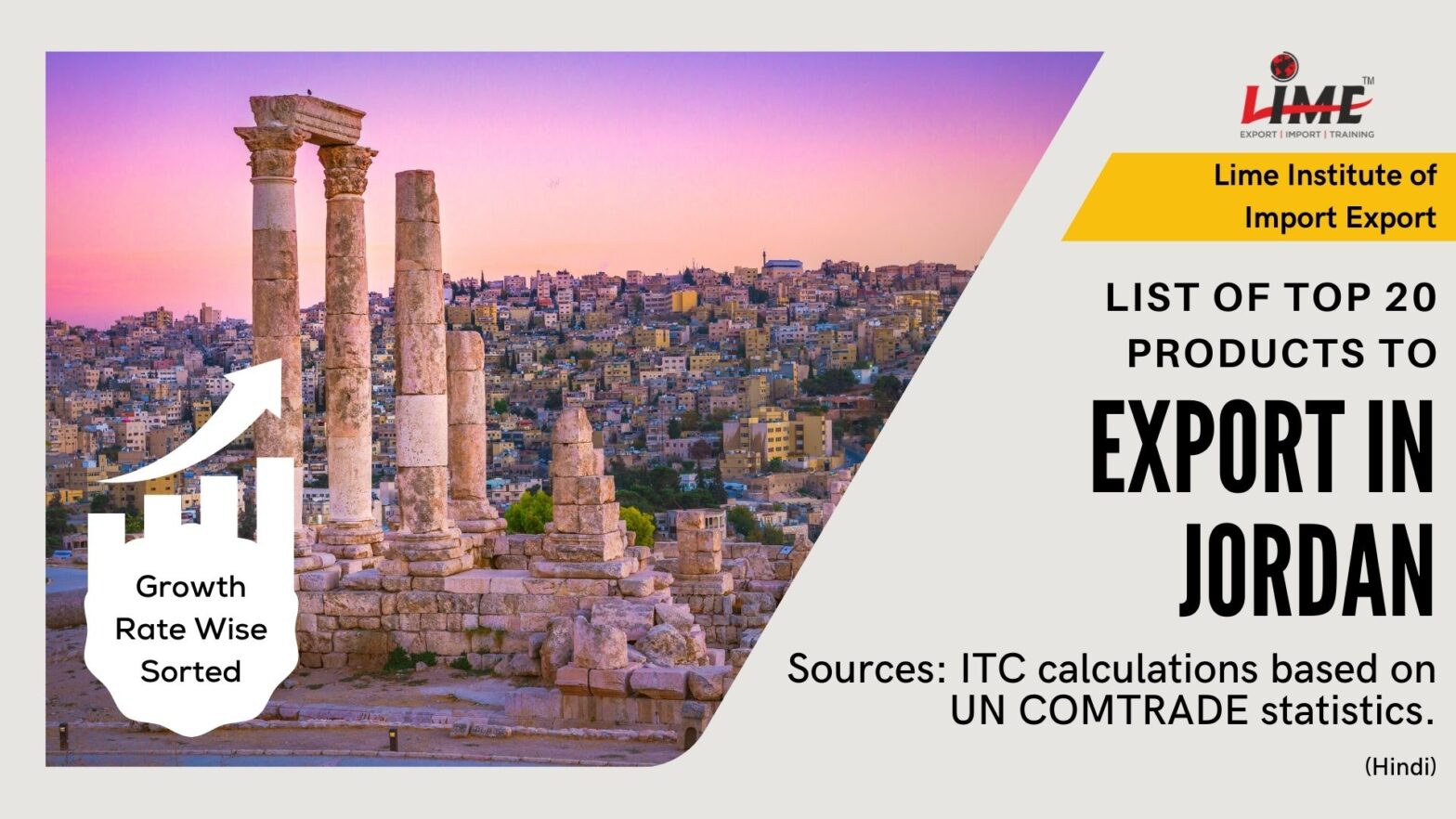 Here is the list of Top 20 Products that you can consider exporting to Jordan from India.
This list contains 20 products that have been the most exported products (Sorted by per annum growth rate from 2017 to 2021).
This way we are trying to help you to get on the correct track of Exports and Select only the best products for a particular country.
Here is the list of all 20 Products as we have shown you in the video:
Parts of seats, n.e.s.
Synthetic organic products of a kind used as luminophores, whether or not chemically defined
Base metal mountings, fittings and similar articles (excluding locks with keys, clasps and …
Fixed electrical resistors for a power handling capacity Lesser than or equals 20 W (excluding heating resistors)
Potassium permanganate
Breathing appliances and gas masks (excluding protective masks having neither mechanical parts …
Washers of iron or steel (excl. spring washers and other lock washers)
Non-threaded articles, of iron or steel
Tapered roller bearings, incl. cone and tapered roller assemblies
Disodium sulphate
Organic composite solvents and thinners, n.e.s.; prepared paint or varnish removers (excluding …
Shampoos
Footwear with outer soles of rubber or plastics and uppers of textile materials (excluding …
Track-suits of cotton, knitted or crocheted
Cumin seeds, neither crushed nor ground
"Polymers of vinyl esters and other vinyl polymers, in primary forms (excluding those of vinyl …
Articles of jewellery and parts thereof, of precious metal other than silver, whether or not …
Acyclic polyamines and their derivatives; salts thereof (excluding ethylenediamine and hexamethylenediamine, …
Articles and equipment for general physical exercise, gymnastics or athletics
Filament yarn of polyester, incl. monofilament of Lesser than 67 decitex, single, with a twist of Greater than 50 …
This video is a great example of highly valuable and crucial information that will help anyone who is a beginner or just started and getting their first few deals closed.
Ask us anything you want about Export and Import in the comments below
You can always get in touch with our experts to learn more about courses and services in this trade.
Here is the link to our official website where you will find all relevant contact details of Lime Institute of Import and Export: https://limeinstitute.org/
You Can also connect with us on the following social handles of Lime Institute of Import and Export.
Facebook: https://www.facebook.com/limeinstitutes/
Instagram: https://www.instagram.com/lime_export_import_institute/
Twitter: https://twitter.com/Alpeshpatel1856
To Call us for our next batch of Import Export Classes, Call on our Helpline No. +91 – 82641 26323
#export #import #indiatoJordan  #exporttoJordan