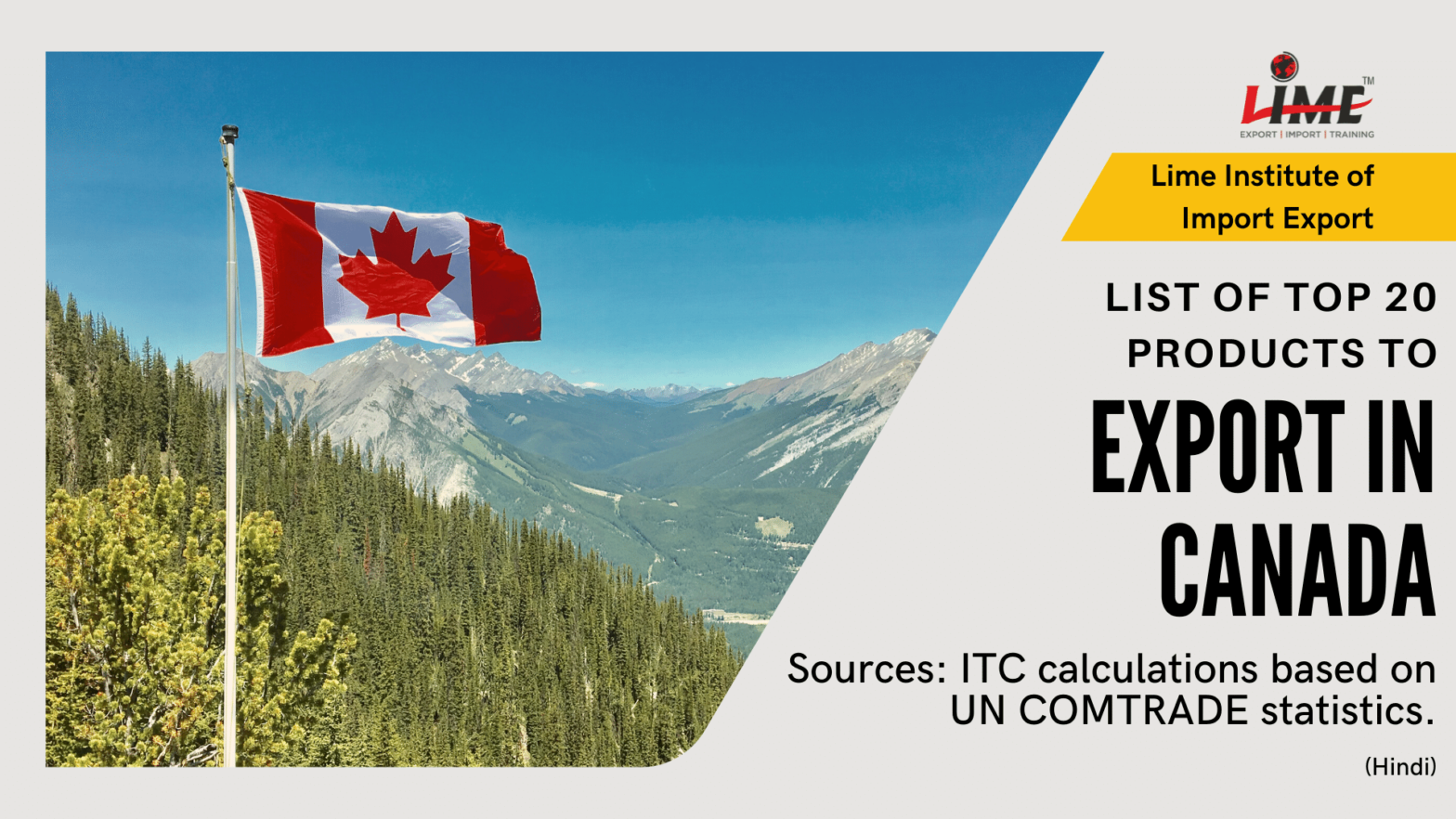 Here is the list of Top 20 Products that you can consider exporting to Canada from India.
This list contains 20 products that have been the most exported products (in value USD Thousands).
This way we are trying to help you to get on the correct track of Exports and Select only the best products for a particular country.
Here is the list of all 20 Products as we have shown you in the video:
"Medicaments consisting of mixed or unmixed products for therapeutic or prophylactic purposes,
Line pipe of a kind used for oil or gas pipelines, having circular cross-sections and an external
Frozen shrimps and prawns, even smoked, whether in a shell or not, incl. shrimps and prawns
Semi-milled or wholly milled rice, whether or not polished or glazed
Articles of plastics and articles of other materials of heading 3901 to 3914, n.e.s (excluding
Articles of jewelry and parts thereof, of precious metal other than silver, whether or not
Motor cars and other motor vehicles principally designed for the transport of persons, incl.
Diamonds, worked, but not mounted or set (excluding industrial diamonds)
Oilcake and other solid residues, whether or not ground or in the form of pellets, resulting
T-shirts, singlets and other vests of cotton, knitted or crocheted
"Heterocyclic compounds with nitrogen hetero-atom[s] only (excluding those containing an unfused
Cast articles of iron or steel, n.e.s. (excluding articles of non-malleable cast iron, and
Grinding balls and similar articles for mills, cast (excluding such articles of non-malleable
Parts and accessories, for tractors, motor vehicles for the transport of ten or more persons,
Toilet linen and kitchen linen, of terry towelling or similar terry fabrics of cotton (excluding
Antisera and other blood fractions and immunological products, whether or not modified or obtained
Bedspreads of all types of textile materials (excluding knitted or crocheted, bedlinen, quilts
Food preparations, n.e.s.
Articles of iron or steel, n.e.s. (excluding cast articles or articles of iron or steel wire)
"Medicaments containing penicillins or derivatives thereof with a penicillanic acid structure
This video is a great example of highly valuable and crucial information that will help anyone who is a beginner or just started and getting their first few deals closed.
Ask us anything you want about Export and Import in the comments below
You can always get in touch with our experts to learn more about courses and services in this trade.
Here is the link to our official website where you will find all relevant contact details of Lime Institute of Import and Export: https://limeinstitute.org/
You Can also connect with us on the following social handles of Lime Institute of Import and Export.
Facebook: https://www.facebook.com/limeinstitutes/
Instagram: https://www.instagram.com/lime_export_import_institute/
Twitter: https://twitter.com/Alpeshpatel1856
To Call us for our next batch of Import Export Classes, Call on our Helpline No. +91 – 82641 26323
#export #import #indiatoCanada #exporttoCanada