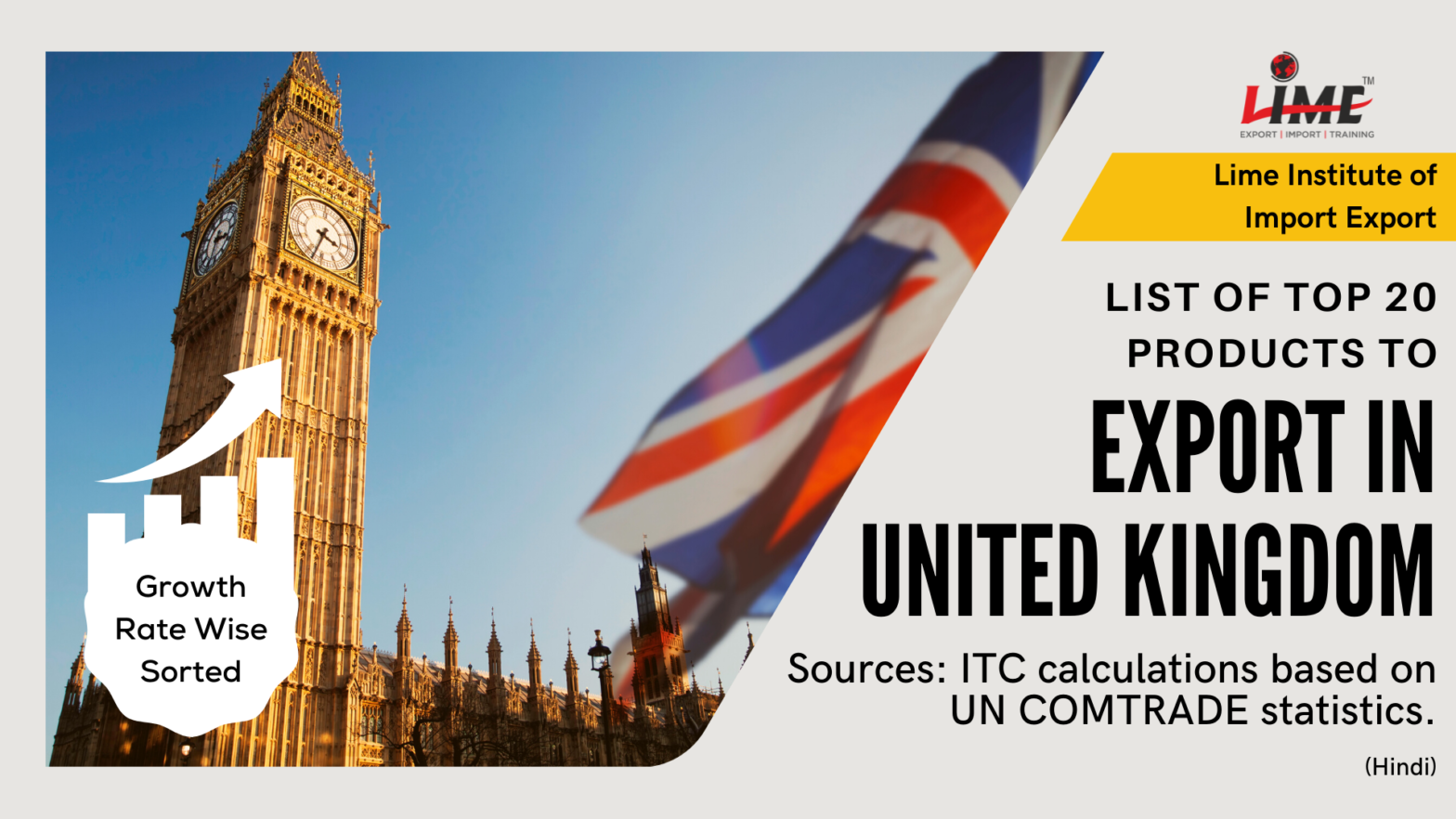 Here is the list of Top 20 Products that you can consider exporting to UK from India.
We have shortlisted these products for the highest percentage-wise growth rate exported in the past 4-5 years from India to UK.
This way we are trying to help you to get on the correct track of Exports and Select only the best products for a particular country.
Here is the list of all 20 Products as we have shown you in the video:
Natural rubber latex, whether or not prevulcanised
Zinc dust
"Fused magnesia; dead-burned ""sintered"" magnesia, whether or not containing small quantities …
Solid-state, non-volatile data storage devices for recording data from an external source [flash …
"Multiple ""folded"" or cabled synthetic filament yarn, incl. synthetic monofilament of Lesser than 67 …
Cane molasses resulting from the extraction or refining of sugar
Machinery for mixing or kneading solid mineral substances, incl. those in powder or paste form …
Palladium in semi-manufactured forms
Polishes and similar preparations for coachwork, whether or not in the form of paper, wadding, …
"Telephones for cellular networks ""mobile telephones"" or for other wireless networks"
Uncoated paper and paperboard, of a kind used for writing, printing or other graphic purposes, …
Unwrought aluminium alloys
Paints and varnishes, incl. enamels and lacquers, based on acrylic or vinyl polymers, dispersed …
Time of day recording apparatus and apparatus for measuring, recording or otherwise indicating …
"Phosphates of calcium (excluding calcium hydrogenorthophosphate ""dicalcium phosphate"")"
Garments made up of felt or nonwovens, whether or not impregnated, coated, covered or laminated …
"Calcium hydrogenorthophosphate ""dicalcium phosphate"""
"Plates, sheets, film, foil and strip, of non-cellular polycarbonates, not reinforced, laminated, …
Bars and rods of alloy steel other than stainless, cold-formed or cold-finished and further …
Transfer papers, incl. coated or impregnated paper for duplicator stencils or offset plates, …
Aluminium foil, not backed, rolled but not further worked, of a thickness of lesser than or equals 0,2 mm (excluding …
This video is a great example of highly valuable and crucial information that will help anyone who is a beginner or just started and getting their first few deals closed.
Ask us anything you want about Export and Import in the comments below
You can always get in touch with our experts to learn more about courses and services in this trade.
Here is the link to our official website where you will find all relevant contact details of Lime Institute of Import and Export: https://limeinstitute.org/
You Can also connect with us on the following social handles of Lime Institute of Import and Export.
Facebook: https://www.facebook.com/limeinstitutes/
Instagram: https://www.instagram.com/lime_export_import_institute/
Twitter: https://twitter.com/Alpeshpatel1856
To Call us for our next batch of Import Export Classes, Call on our Helpline No. +91 – 82641 26323
#export #import #indiatoUK #exporttoUK