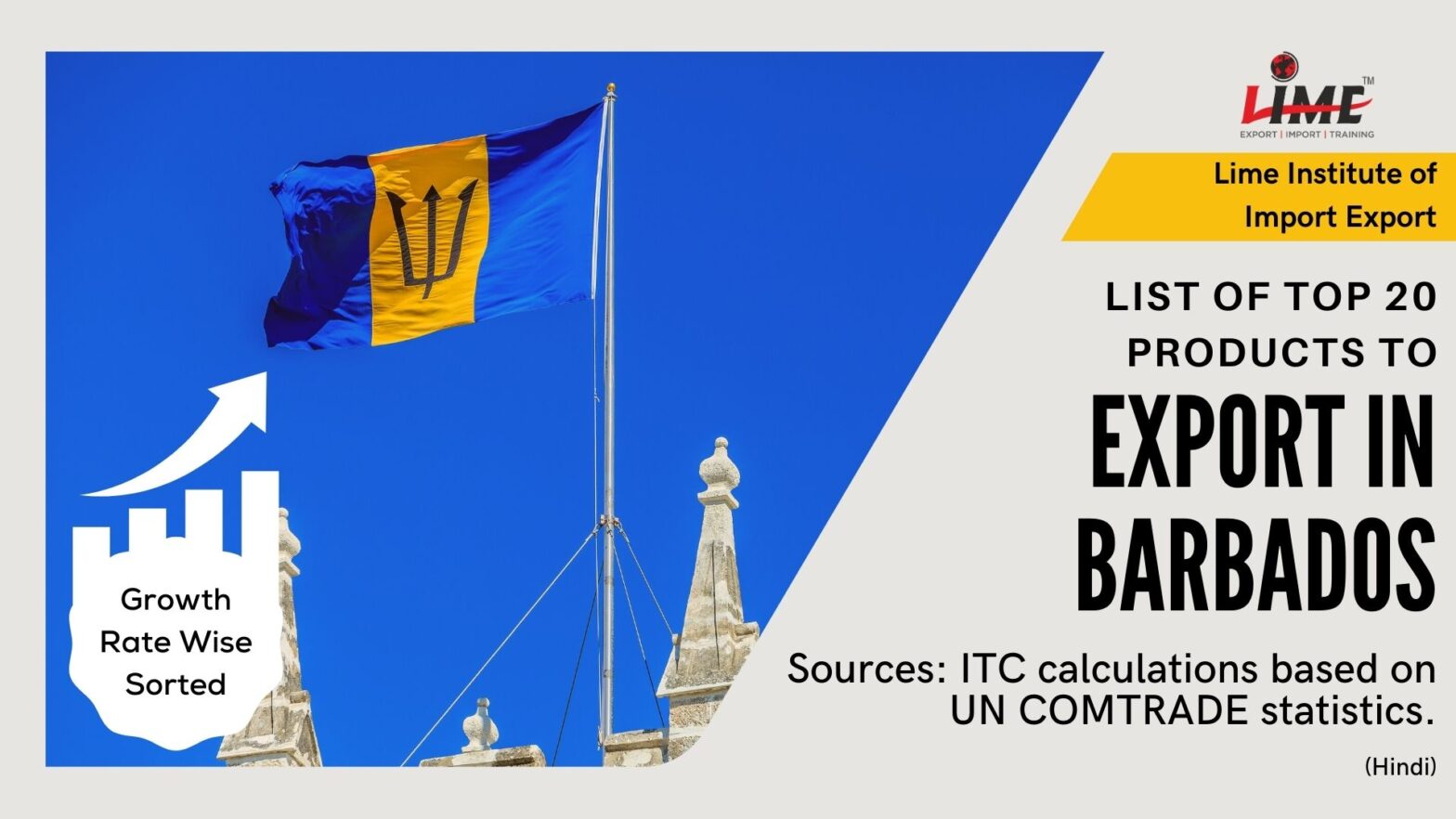 Here is the list of the Top 20 Products that you can consider exporting to Barbados from India.
We have shortlisted these products for the highest percentage-wise growth rate exported in the past 4-5 years from India to Barbados.
This way we are trying to help you to get on the correct track of Exports and Select only the best products for a particular country.
Here is the list of all 20 Products as we have shown you in the video:
Animal or vegetable fats and oils and their cleavage products; prepared edible fats; animal … 7                188
Paper and paperboard; articles of paper pulp, of paper or of paperboard 22           72
Aluminium and articles thereof 121         49
Electrical machinery and equipment and parts thereof; sound recorders and reproducers, television … 56           45
Machinery, mechanical appliances, nuclear reactors, boilers; parts thereof 308         41
Articles of iron or steel 251         26
Ceramic products 56           25
Rubber and articles thereof 223         23
Other made-up textile articles; sets; worn clothing and worn textile articles; rags 446         22
Essential oils and resinoids; perfumery, cosmetic or toilet preparations 94           22
Preparations of cereals, flour, starch or milk; pastrycooks' products 25           20
Salt; sulphur; earths and stone; plastering materials, lime and cement 5              19
Pharmaceutical products 1972       18
Glass and glassware 15           18
Miscellaneous chemical products 134         17
Printed books, newspapers, pictures and other products of the printing industry; manuscripts, … 3              14
Miscellaneous articles of base metal 47           13
Organic chemicals 204         11
Carpets and other textile floor coverings 48           9
Soap, organic surface-active agents, washing preparations, lubricating preparations, artificial … 21           8
This video is a great example of highly valuable and crucial information that will help anyone who is a beginner or just started and getting their first few deals closed.
Ask us anything you want about Export and Import in the comments below
You can always get in touch with our experts to learn more about courses and services in this trade.
Here is the link to our official website where you will find all relevant contact details of Lime Institute of Import and Export: https://limeinstitute.org/
You Can also connect with us on the following social handles of Lime Institute of Import and Export.
Facebook: https://www.facebook.com/limeinstitutes/
Instagram: https://www.instagram.com/lime_export_import_institute/
Twitter: https://twitter.com/Alpeshpatel1856
To Call us for our next batch of Import Export Classes, Call on our Helpline No. +91 – 82641 26323
#export #import #indiatoBarbados  #exporttoBarbados