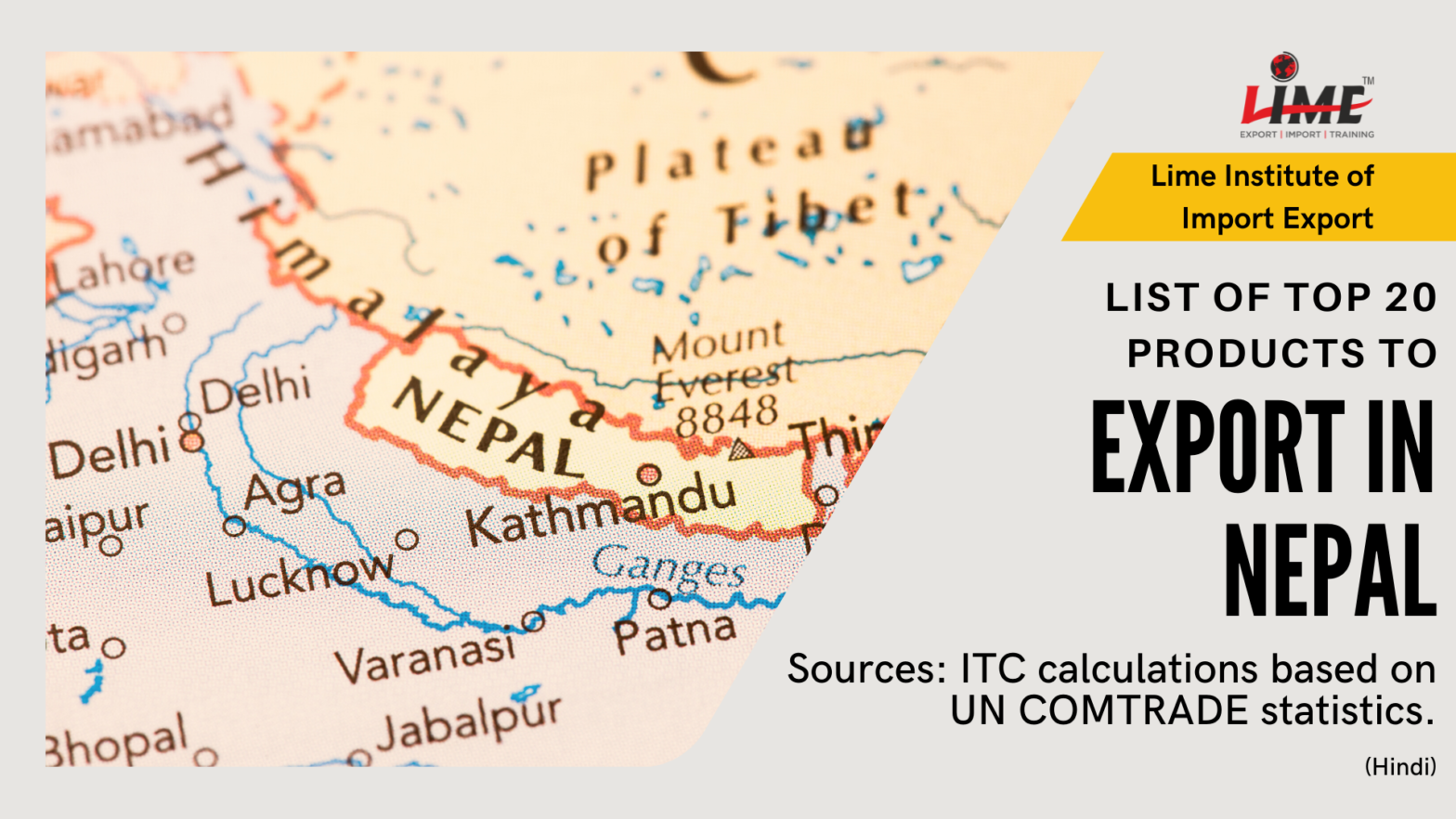 Here is the list of Top 20 Products that you can consider exporting to Nepal from India.
We have shortlisted these products upon the highest quantity exported in past 4-5 years from India to Nepal.
This way we are trying to help you to get on the correct track of Exports and Select only the best products for a perticuler contry.
Here is the list of all 20 Products as we Promissed you in the video:
Medium oils and preparations, of petroleum or bituminous minerals, not containing biodiesel,
Semi-finished products of iron or non-alloy steel containing, by weight, < 0,25% of carbon,
Gaseous hydrocarbons, liquefied, n.e.s. (excluding natural gas, propane, butane, ethylene,
Semi-milled or wholly milled rice, whether or not polished or glazed
Light oils and preparations, of petroleum or bituminous minerals which >= 90% by volume "incl.
Motorcycles, incl. mopeds, with reciprocating internal combustion piston engine of a cylinder
Medicaments consisting of mixed or unmixed products for therapeutic or prophylactic purposes
Flat-rolled products of iron or non-alloy steel, of a width of >= 600 mm, in coils, simply …
Maize (excluding seed for sowing)
Rice in the husk, "paddy" or rough
Bars and rods, hot-rolled, in irregularly wound coils, of iron or non-alloy steel, of circular
Wheat and meslin (excluding seed for sowing, and durum wheat)
Telephones for cellular networks "mobile telephones" or for other wireless networks
Oilcake and other solid residues, whether or not ground or in the form of pellets, resulting
Cane or beet sugar and chemically pure sucrose, in solid form (excluding cane and beet sugar

Coal, whether or not pulverised, non-agglomerated (excluding anthracite and bituminous coal)
Tractors (excluding those of heading 8709, pedestrian-controlled tractors, road tractors for
Unglazed ceramic flags and paving, hearth or wall tiles; unglazed ceramic mosaic cubes
Ferrous products obtained by direct reduction of iron ore, in lumps, pellets or similar forms
Motor cars and other motor vehicles principally designed for the transport of persons,

This video is a great example of highly valuable and crucial information that will help anyone who is a beginner or just started and getting their first few deals closed.

Ask us anything you want about Export and Import in the comments below

You can always get in touch with our experts to learn more about courses and services in this trade.

Here is the link to our official website where you will find all relevant contact details of Lime Institute of Import and Export: https://limeinstitute.org/

You Can also connect with us on the following social handles of Lime Institute of Import and Export.

Facebook: https://www.facebook.com/limeinstitutes/

Instagram: https://www.instagram.com/lime_export_import_institute/

Twitter: https://twitter.com/Alpeshpatel1856

To Call us for our next batch of Import Export Classes, Call on our Helpline No. +91 – 82641 26323

#export #import #indiatonepal #exporttonepal