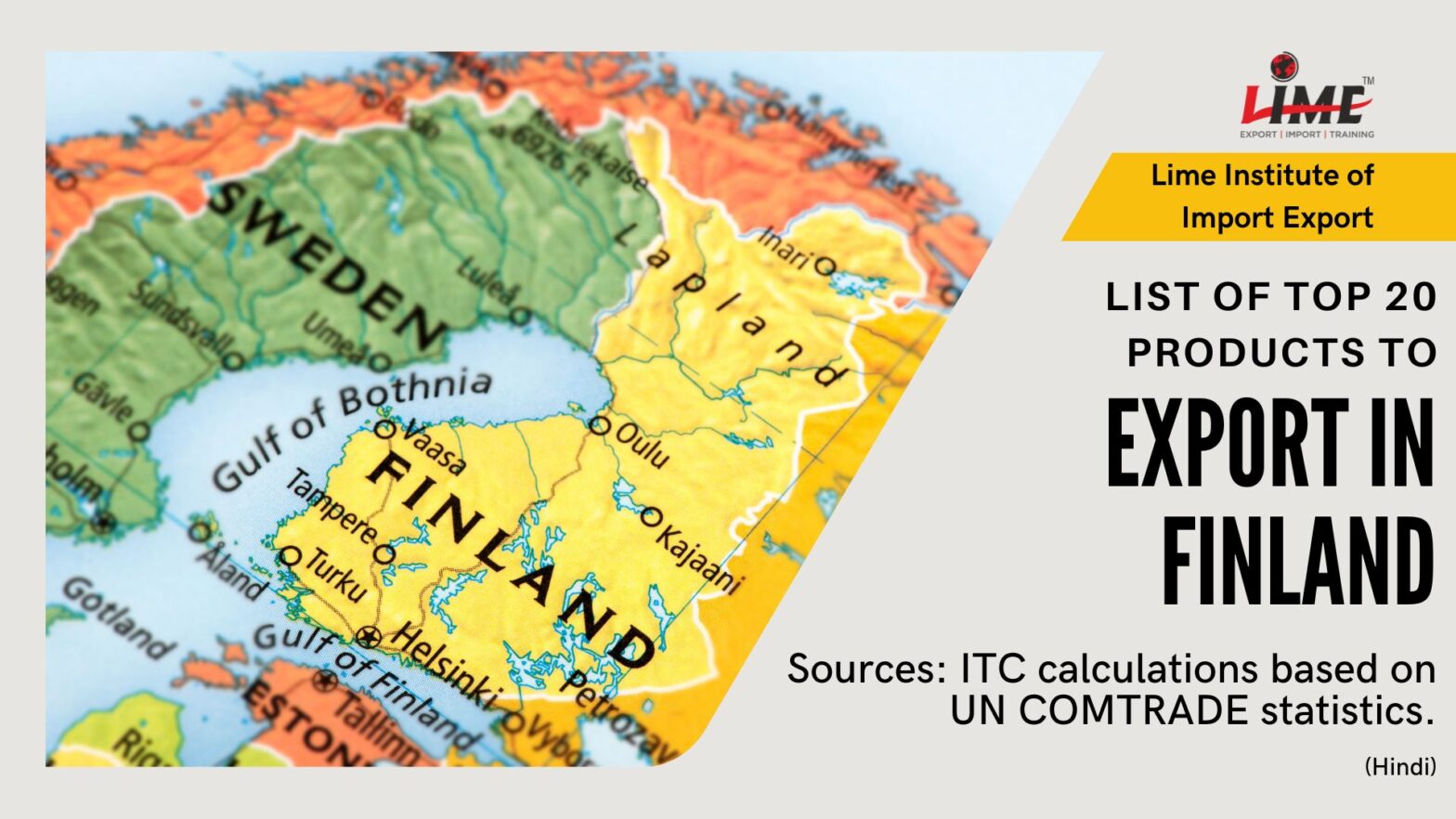 Here is the list of the Top 20 Products that you can consider exporting to  Finland from India.
This list contains 20 products that have been the most exported products (in value USD Thousands).
This way we are helping you to get on the right track of Exports and Select only the best products for a particular country.
Here is the list of all 20 Products as we have shown you in the video:
'6109 T-shirts, singlets and other vests, knitted or crocheted      3336
'9404 Mattress supports (excluding spring interiors for seats); articles of bedding and similar furnishing, …              3354
'8543 Electrical machines and apparatus, having individual functions, n.e.s. in chapter 85 and parts …  3465
'2942 Separate chemically defined organic compounds, n.e.s.   3507
'8708 Parts and accessories for tractors, motor vehicles for the transport of ten or more persons, …              3913
'7113 Articles of jewellery and parts thereof, of precious metal or of metal clad with precious metal …    4161
'2913 Halogenated, sulphonated, nitrated or nitrosated derivatives of cyclic polymers of aldehydes …              4257
'6406 Parts of footwear, incl. uppers whether or not attached to soles other than outer soles; removable …             6502
'6304 Articles for interior furnishing, of all types of textile materials (excluding blankets and … 6586
'5705 "Carpets and other textile floor coverings, whether or not made up (excluding knotted, woven …      6667
'7614 Stranded wire, cables, plaited bands and the like, of aluminium (excluding such products electrically …         6976
'8412 Engines and motors (excluding steam turbines, internal combustion piston engine, hydraulic …         7040
'9018 Instruments and appliances used in medical, surgical, dental or veterinary sciences, incl. … 7525
'8504 Electrical transformers, static converters, e.g. rectifiers, and inductors; parts thereof  7586
'7221 Bars and rods of stainless steel, hot-rolled, in irregularly wound coils               8571
'8474 Machinery for sorting, screening, separating, washing, crushing, grinding, mixing or kneading …     15790
'4011 New pneumatic tyres, of rubber  18904
'7325 Articles of iron or steel, cast, n.e.s.           19146
'8503 Parts suitable for use solely or principally with electric motors and generators, electric …    19286
'3004 "Medicaments consisting of mixed or unmixed products for therapeutic or prophylactic uses, …       40477
This video is an excellent example of precious and crucial information that will help anyone who is a beginner or just started and getting their first few deals closed.
Ask us anything you want about Export and Import in the comments below
You can always get in touch with our experts to learn more about courses and services in this trade.
Here is the link to our official website where you will find all the relevant contact details of the Lime Institute of Import and Export: https://limeinstitute.org/
You Can also connect with us on the following social handles of Lime Institute of Import and Export.
Facebook: https://www.facebook.com/limeinstitutes/
Instagram: https://www.instagram.com/lime_export_import_institute/
Twitter: https://twitter.com/Alpeshpatel1856
To Call us for our next batch of Import Export Classes, Call on our Helpline No. +91 – 82641 26323
#export #import #indiato Finland  #exportto Finland