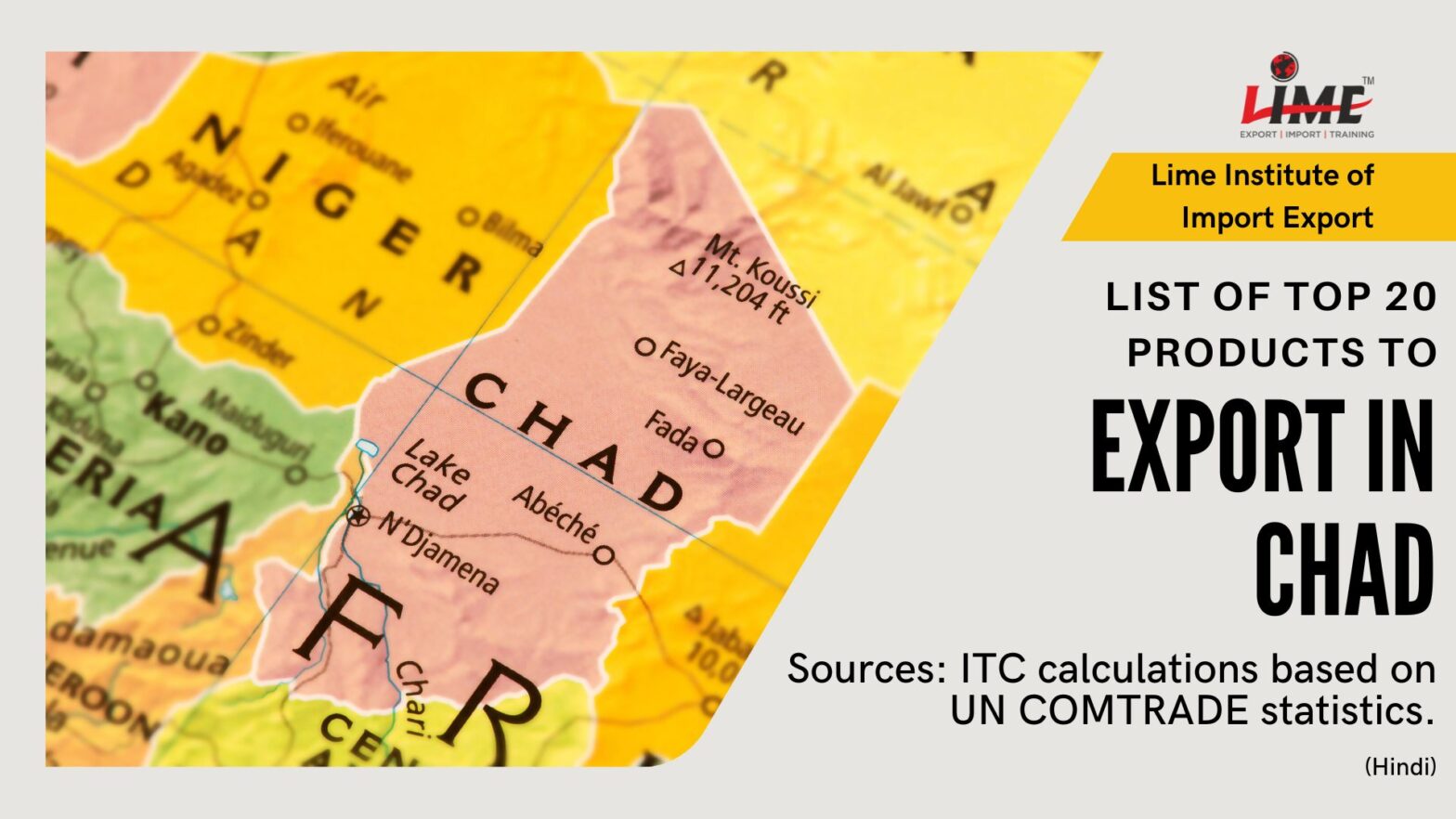 Here is the list of the Top 20 Products that you can consider exporting to Chad from India.
This list contains 20 products that have been the most exported products (in value USD Thousands).
This way we are helping you to get on the right track of Exports and Select only the best products for a particular country.
Here is the list of all 20 Products as we have shown you in the video:
"Medicaments consisting of mixed or unmixed products for therapeutic or prophylactic purposes, … 19002
Motor cars and other motor vehicles principally designed for the transport of persons, incl. … 4263
Vaccines for human medicine 3988
Sweet biscuits 2869
Insecticides, put up in forms or packings for retail sale or as preparations or articles (excl. … 2343
Sugar confectionery not containing cocoa, incl. white chocolate (excl. chewing gum) 2252
Bicycles and other cycles, incl. delivery tricycles, not motorised 1661
Footwear with outer soles and uppers of rubber or plastics, with upper straps or thongs assembled … 1435
Footwear with outer soles and uppers of rubber or plastics (excluding covering the ankle or … 1363
Perfumes and toilet waters (excluding aftershave lotions, personal deodorants and hair lotions) 1046
"Medicaments containing any of the following antimalarial active principles: artemisinin ""INN"" … 835
Malaria diagnostic test kits 815
Embroidery of cotton on a textile fabric ground, in the piece, in strips or in motifs (excluding … 575
Containers of iron or steel, for compressed or liquefied gas (excluding containers specifically … 559
Chewing gum, whether or not sugar-coated 499
Printed books, brochures and similar printed matter, in single sheets, whether or not folded … 491
Parts and accessories, for bicycles, n.e.s. 484
"Medicaments containing hormones or steroids used as hormones but not antibiotics, put up in … 473
"Medicaments containing provitamins, vitamins, incl. natural concentrates and derivatives thereof … 460
Penicillins and their derivatives with a penicillanic acid structure; salts thereof 449
This video is an excellent example of precious and crucial information that will help anyone who is a beginner or just started and getting their first few deals closed.
Ask us anything you want about Export and Import in the comments below
You can always get in touch with our experts to learn more about courses and services in this trade.
Here is the link to our official website where you will find all the relevant contact details of the Lime Institute of Import and Export: https://limeinstitute.org/
You Can also connect with us on the following social handles of Lime Institute of Import and Export.
Facebook: https://www.facebook.com/limeinstitutes/
Instagram: https://www.instagram.com/lime_export_import_institute/
Twitter: https://twitter.com/Alpeshpatel1856
To Call us for our next batch of Import Export Classes, Call on our Helpline No. +91 – 82641 26323
#export #import #indiatoChad  #exporttoChad