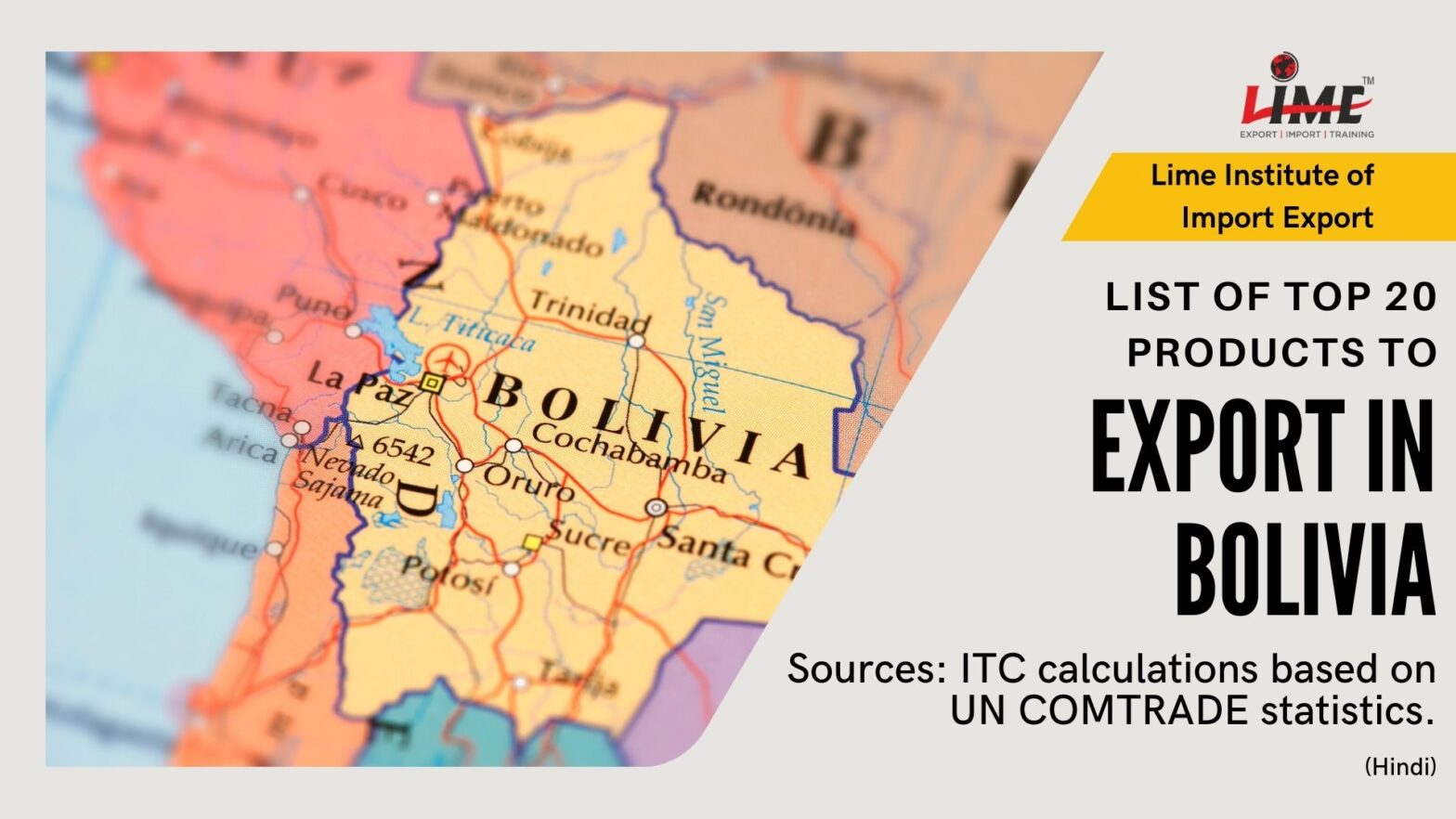 Here is the list of the Top 20 Products that you can consider exporting to Bolivia from India.
This list contains 20 products that have been the most exported products (in value USD Thousands).
This way we are helping you to get on the right track of Exports and Select only the best products for a particular country.
Here is the list of all 20 Products as we have shown you in the video:
Vehicles other than railway or tramway rolling stock, and parts and accessories thereof 63408
Pharmaceutical products 47702
Rubber and articles thereof 4513
Machinery, mechanical appliances, nuclear reactors, boilers; parts thereof 2664
Organic chemicals 2645
Miscellaneous chemical products 2000
Articles of iron or steel 1668
Optical, photographic, cinematographic, measuring, checking, precision, medical or surgical … 1619
Plastics and articles thereof 1603
Electrical machinery and equipment and parts thereof; sound recorders and reproducers, television … 962
Aluminium and articles thereof 818
Lac; gums, resins and other vegetable saps and extracts 697
Ceramic products 403
Inorganic chemicals; organic or inorganic compounds of precious metals, of rare-earth metals, … 385
Tanning or dyeing extracts; tannins and their derivatives; dyes, pigments and other colouring … 347
Iron and steel 338
Man-made staple fibres 294
Tobacco and manufactured tobacco substitutes 224
Articles of stone, plaster, cement, asbestos, mica or similar materials 141
Articles of leather; saddlery and harness; travel goods, handbags and similar containers; articles … 132
This video is an excellent example of precious and crucial information that will help anyone who is a beginner or just started and getting their first few deals closed.
Ask us anything you want about Export and Import in the comments below
You can always get in touch with our experts to learn more about courses and services in this trade.
Here is the link to our official website where you will find all the relevant contact details of the Lime Institute of Import and Export: https://limeinstitute.org/
You Can also connect with us on the following social handles of Lime Institute of Import and Export.
Facebook: https://www.facebook.com/limeinstitutes/
Instagram: https://www.instagram.com/lime_export_import_institute/
Twitter: https://twitter.com/Alpeshpatel1856
To Call us for our next batch of Import Export Classes, Call on our Helpline No. +91 – 82641 26323
#export #import #indiatoBolivia  #exporttoBolivia