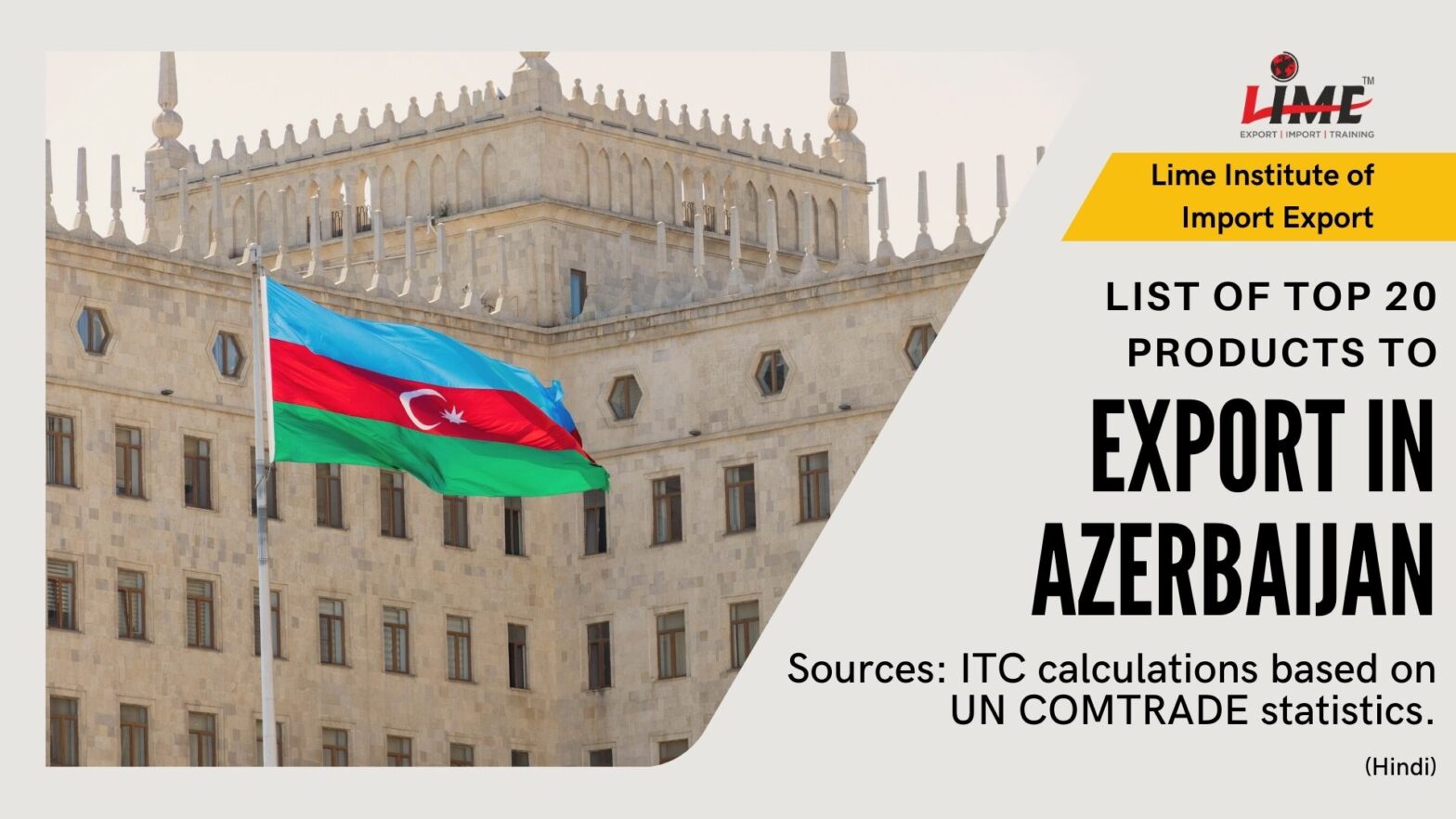 Here is the list of the Top 20 Products that you can consider exporting to Azerbaijan from India.
This list contains 20 products that have been the most exported products (in value USD Thousands).
This way we are helping you to get on the right track of Exports and Select only the best products for a particular country.
Here is the list of all 20 Products as we have shown you in the video:
Cereals 11993
Pharmaceutical products 7385
Machinery, mechanical appliances, nuclear reactors, boilers; parts thereof 4952
Optical, photographic, cinematographic, measuring, checking, precision, medical or surgical … 3260
Tobacco and manufactured tobacco substitutes 1796
Articles of stone, plaster, cement, asbestos, mica or similar materials 1748
Coffee, tea, maté and spices 1472
Meat and edible meat offal 1417
Vehicles other than railway or tramway rolling stock, and parts and accessories thereof 1009
Articles of iron or steel 906
Electrical machinery and equipment and parts thereof; sound recorders and reproducers, television … 890
Rubber and articles thereof 821
Miscellaneous chemical products 674
Ceramic products 671
Inorganic chemicals; organic or inorganic compounds of precious metals, of rare-earth metals, … 522
Articles of apparel and clothing accessories, knitted or crocheted 335
Miscellaneous manufactured articles 257
Other vegetable textile fibres; paper yarn and woven fabrics of paper yarn 255
Articles of apparel and clothing accessories, not knitted or crocheted 183
Salt; sulphur; earths and stone; plastering materials, lime and cement 180
This video is an excellent example of precious and crucial information that will help anyone who is a beginner or just started and getting their first few deals closed.
Ask us anything you want about Export and Import in the comments below
You can always get in touch with our experts to learn more about courses and services in this trade.
Here is the link to our official website where you will find all the relevant contact details of the Lime Institute of Import and Export: https://limeinstitute.org/
You Can also connect with us on the following social handles of Lime Institute of Import and Export.
Facebook: https://www.facebook.com/limeinstitutes/
Instagram: https://www.instagram.com/lime_export_import_institute/
Twitter: https://twitter.com/Alpeshpatel1856
To Call us for our next batch of Import Export Classes, Call on our Helpline No. +91 – 82641 26323
#export #import #indiatoAzerbaijan  #exporttoAzerbaijan