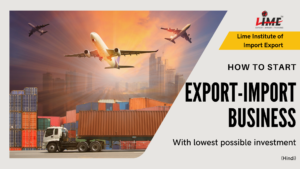 Here is our video that will explain to you the fundamentals of starting the #Export #Import #Business in India with minimal investment possible in the shortest period of time.
This way we are trying to help you to get on the correct track of Exports-Import Business startup without the worry to invest a huge amount of money in your initial stage of business.
This video is a great example of highly valuable and crucial information that will help anyone who is a beginner or just started and getting their export-import journey.
We have given our 8 points strategy that we have seen and worked for many of our students.
Ask us anything you want about Export and Import in the comments below
You can always get in touch with our experts to learn more about courses and services in this trade.
Here is the link to our official website where you will find all relevant contact details of Lime Institute of Import and Export: https://limeinstitute.org/
You Can also connect with us on the following social handles of Lime Institute of Import and Export.
Facebook: https://www.facebook.com/limeinstitutes/
Instagram: https://www.instagram.com/lime_export_import_institute/
Twitter: https://twitter.com/Alpeshpatel1856
To Call us for our next batch of Import Export Classes, Call on our Helpline No. +91 – 82641 26323
#export #import #indiatonepal #exporttonepal