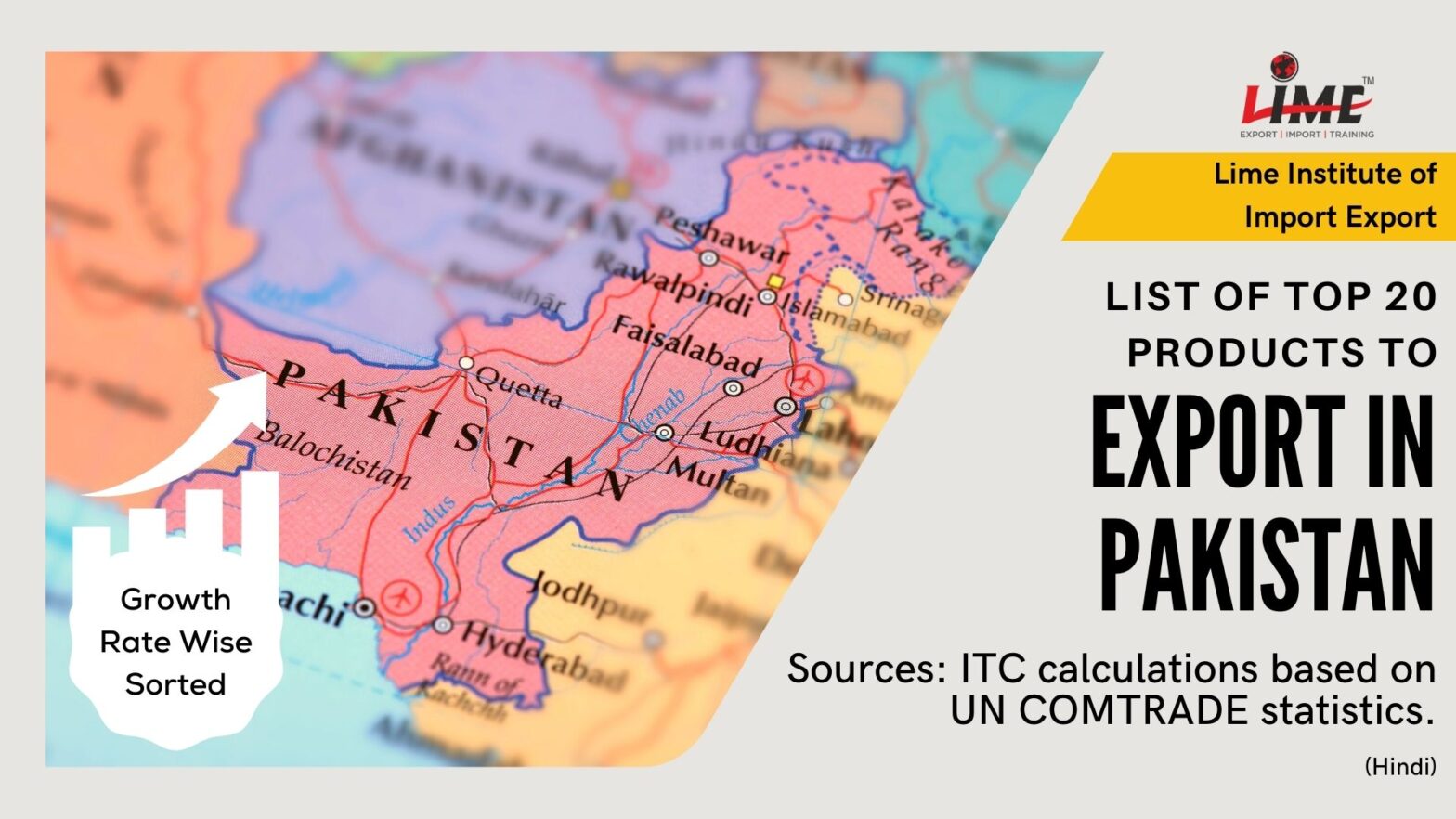 Here is the list of the Top 20 Products that you can consider exporting to Pakistan from India.
We have shortlisted these products for the highest percentage-wise growth rate exported in the past 4-5 years from India to Pakistan.
This way we are trying to help you to get on the correct track of Exports and Select only the best products for a particular country.
Here is the list of all 20 Products as we have shown you in the video:
1 Structures and parts of structures, of iron or steel, n.e.s. (excluding bridges and bridge-sections, …         43           1223
2 "Poly""ethylene terephthalate"", in primary forms, having a viscosity number of Lesser than 78 ml/g"               39           665
3 Vitamin B1 and its derivatives, used primarily as vitamins             258         299
4 Vitamin B6 and its derivatives, used primarily as vitamins             1              288
5 Opacifying preparations for x-ray examinations; diagnostic reagents for administration to patients               324         281
6 Threaded screws and bolts, of iron or steel, whether or not with their nuts and washers (excl. …            86           215
7 Matches (excluding pyrotechnic articles of heading 3604)             642         208
8 "Amino-alcohols, their ethers and esters; salts thereof (other than those containing Greater than one …         1210       190
9 Electric conductors, for a voltage Lesser than or equals 1.000 V, insulated, not fitted with connectors, n.e.s.            2              187
10 "Cinnamon ""Cinnamomum zeylanicum Blume"" (excluding crushed and ground)"          2                177
11 "Glycosides, natural or reproduced by synthesis, and their salts, ethers, esters and other …                589         145
12 Carboxylic acids with additional oxygen function and their anhydrides, halides, peroxides and …   2183       136
13 Cane or beet sugar and chemically pure sucrose, in solid form (excluding cane and beet sugar …            110135  123
14 Tetracyclines and their derivatives; salts thereof                14           113
15 Immunological products, unmixed, not put up in measured doses or in forms or packings for retail … 273         85
16 Cyclanic, cyclenic or cycloterpenic alcohols and their halogenated, sulphonated, nitrated or …                340         84
17 Statuettes and other ornamental articles, of plastics       244         80
18 Woven fabrics containing Greater than or equals 85% polyester staple fibres by weight, dyed, made of yarn of different …        211         72
19 Bases, inorganic, and metal oxides, hydroxides and peroxides, n.e.s.      2              71
20 Woven fabrics of strip or the like, of synthetic filament, incl. monofilament of Greater than or equals 67 decitex …         2007       62
This video is a great example of highly valuable and crucial information that will help anyone who is a beginner or just started and getting their first few deals closed.
Ask us anything you want about Export and Import in the comments below
You can always get in touch with our experts to learn more about courses and services in this trade.
Here is the link to our official website where you will find all relevant contact details of Lime Institute of Import and Export: https://limeinstitute.org/
You Can also connect with us on the following social handles of Lime Institute of Import and Export.
Facebook: https://www.facebook.com/limeinstitutes/
Instagram: https://www.instagram.com/lime_export_import_institute/
Twitter: https://twitter.com/Alpeshpatel1856
To Call us for our next batch of Import Export Classes, Call on our Helpline No. +91 – 82641 26323
#export #import #indiatoPakistan  #exporttoPakistan