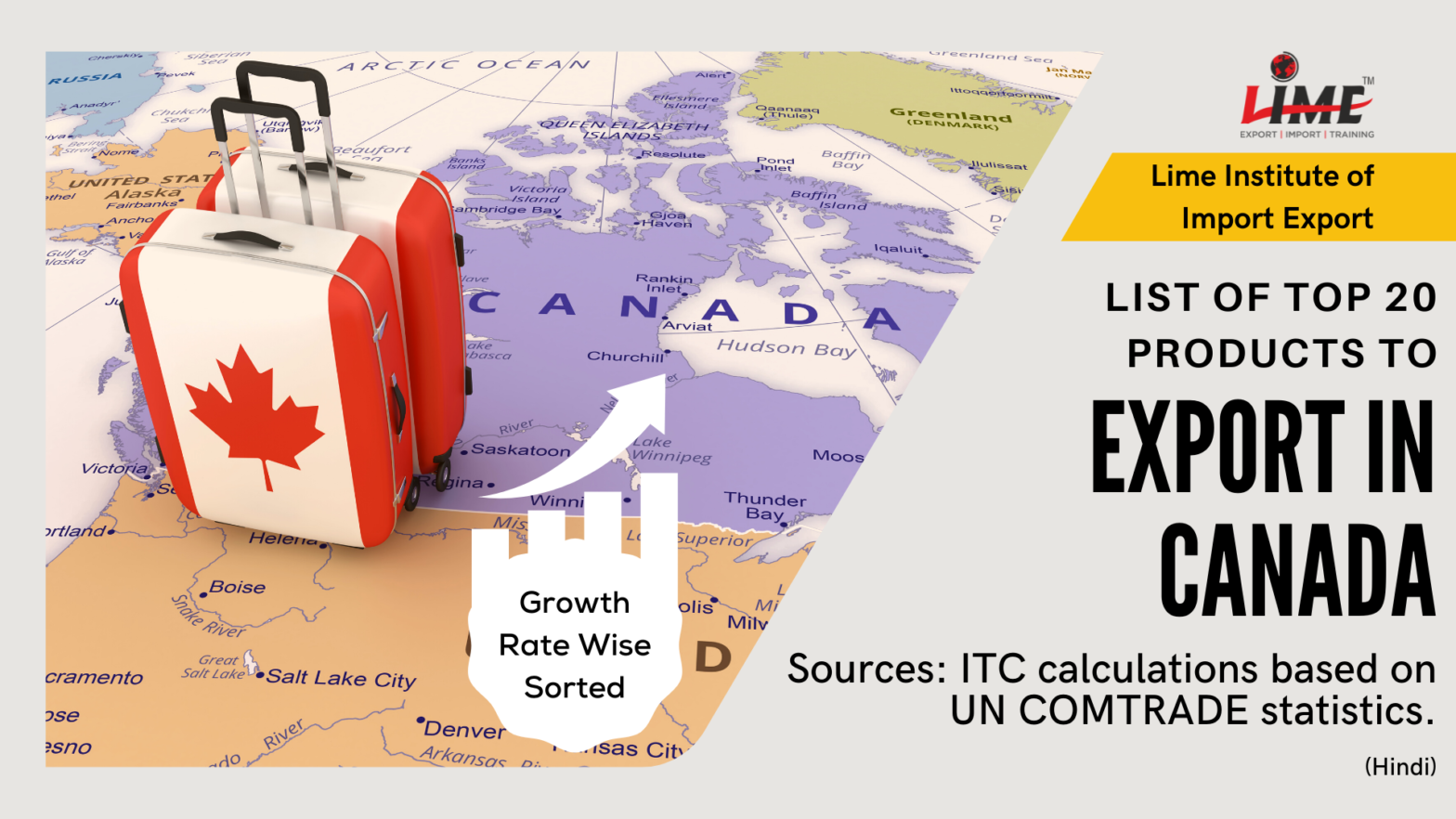 Here is the list of Top 20 Products that you can consider exporting to Canada from India.
We have shortlisted these products for the highest percentage-wise growth rate exported in the past 4-5 years from India to Canada.
This way we are trying to help you to get on the correct track of Exports and Select only the best products for a particular country.
Here is the list of all 20 Products as we have shown you in the video:
Sodium sulfites
Spectacles, goggles, and the like, corrective, protective, or other (excluding spectacles for …
Manganese dioxide
"Hydrogen fluoride ""hydrofluoric acid"""
Roller chain of iron or steel
Office machines, n.e.s.
Peptones and their derivatives; other albuminous substances and their derivatives, n.e.s.; …
Clutches and parts thereof, for tractors, motor vehicles for the transport of ten or more persons, …
Sulfates of copper
Table knives having fixed blades of base metal, incl. handles (excluding butter knives and …
Furniture of plastics (excluding medical, dental, surgical or veterinary, and seats)
Unwrought aluminum alloys
Packing or wrapping machinery, incl. heat-shrink wrapping machinery (excluding machinery for …
"Endless transmission belts of trapezoidal cross-section "V-belts"", of vulcanized rubber, …
Sunglasses
Inorganic tanning substances; tanning preparations, whether or not containing natural tanning …
Soya-bean oil and its fractions, whether or not refined (excluding chemically modified and …
"Fibreboard of wood or other ligneous materials, whether or not agglomerated with resins or …
Line telephone sets with cordless handsets
Flat-rolled products of silicon-electrical steel, of a width of greater than or equal to 600 mm, grain-oriented
Mineral or chemical fertilizers containing the two fertilizing elements nitrogen and potassium …
This video is a great example of highly valuable and crucial information that will help anyone who is a beginner or just started and getting their first few deals closed.
Ask us anything you want about Export and Import in the comments below
You can always get in touch with our experts to learn more about courses and services in this trade.
Here is the link to our official website where you will find all relevant contact details of Lime Institute of Import and Export: https://limeinstitute.org/
You Can also connect with us on the following social handles of Lime Institute of Import and Export.
Facebook: https://www.facebook.com/limeinstitutes/
Instagram: https://www.instagram.com/lime_export_import_institute/
Twitter: https://twitter.com/Alpeshpatel1856
To Call us for our next batch of Import Export Classes, Call on our Helpline No. +91 – 82641 26323
#export #import #indiatoCanada #exporttoCanada