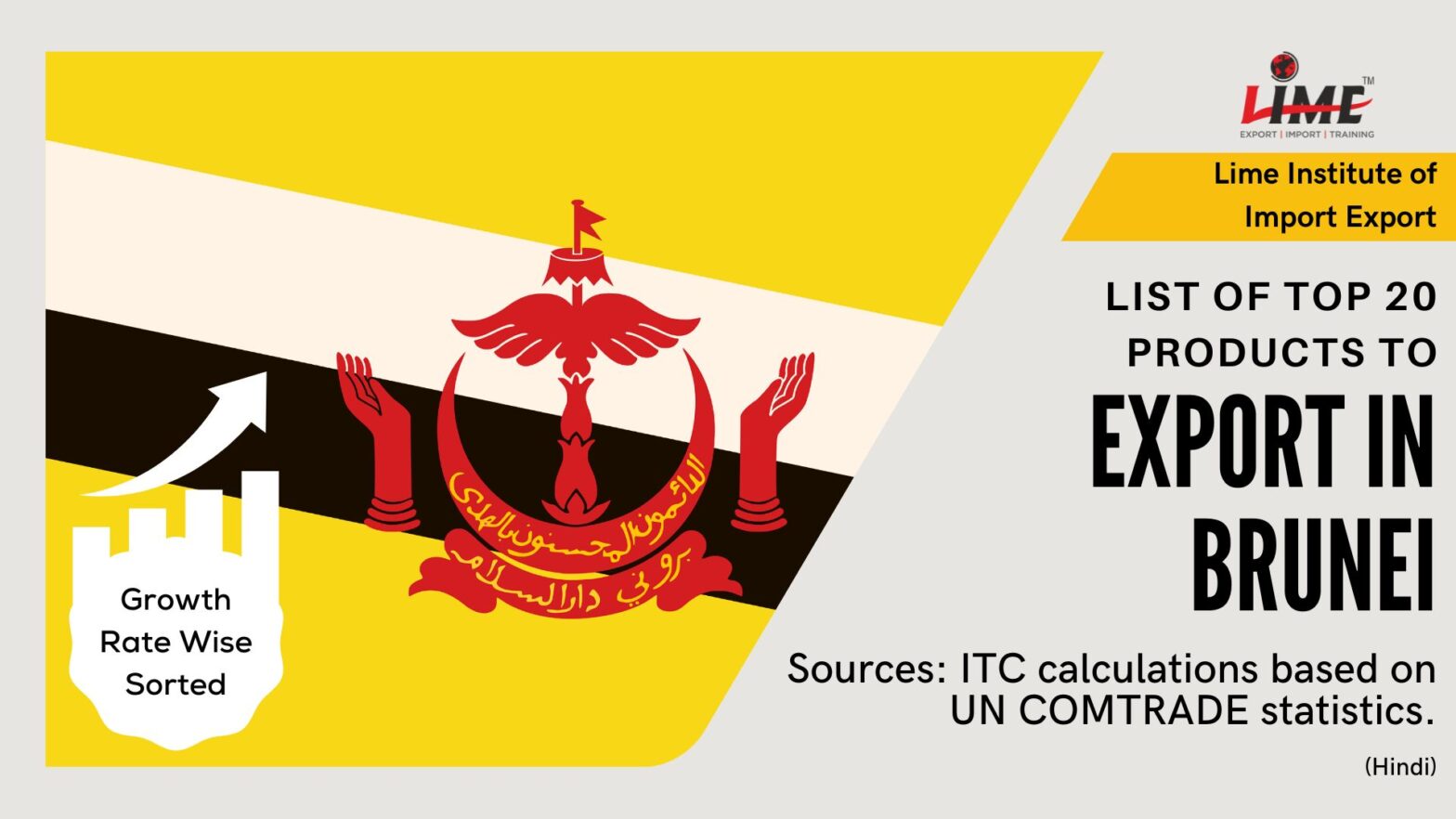 Here is the list of the Top 20 Products that you can consider exporting to Brunei Darussalam from India.
We have shortlisted these products for the highest percentage-wise growth rate exported in the past 4-5 years from India to Brunei Darussalam.
This way we are trying to help you to get on the correct track of Exports and Select only the best products for a particular country.
Here is the list of all 20 Products as we have shown you in the video:
Ceramic flags and paving, hearth or wall tiles, of a water absorption coefficient by weight … 89           611
Bumpers and parts thereof for tractors, motor vehicles for the transport of ten or more persons, … 15           576
Disodium sulphate 5             469
Articles of wood, n.e.s. 5             418
Registers, account books, notebooks, order books, receipt books, letter pads, memorandum pads, … 4             352
Intake air filters for internal combustion engines 6 349
Non-electric razors of base metal 16           345
Tubes, pipes and hollow profiles, seamless, of non-circular cross-section, of iron or steel … 2             318
Tables for casino games, automatic bowling alley equipment, and other funfair, table or parlour … 4             305
Fuses for a voltage Lesser than or equals 1.000 V 12           296
Rusks, toasted bread and similar toasted products 10           296
Fruits of the genus Capsicum or of the genus Pimenta, dried, neither crushed nor ground 73           281
Clutches and shaft couplings, incl. universal joints, for machinery 7 281
Parts and accessories of printers, copying machines and facsimile machines, n.e.s. (excluding … 24           275
Parts and accessories for regulating or controlling instruments and apparatus, n.e.s. 4             275
Medicaments consisting of two or more constituents mixed together for therapeutic or prophylactic … 17           272
Protein concentrates and textured protein substances 3             272
Soap and organic surface-active products and preparations, in the form of bars, cakes, moulded … 171 267
Parts of machines and apparatus for soldering or welding or for hot spraying of metals, metal … 15           244
Scissors, tailors' shears and similar shears, and blades therefor, of base metal (excluding … 3             230
This video is a great example of highly valuable and crucial information that will help anyone who is a beginner or just started and getting their first few deals closed.
Ask us anything you want about Export and Import in the comments below
You can always get in touch with our experts to learn more about courses and services in this trade.
Here is the link to our official website where you will find all relevant contact details of Lime Institute of Import and Export: https://limeinstitute.org/
You Can also connect with us on the following social handles of Lime Institute of Import and Export.
Facebook: https://www.facebook.com/limeinstitutes/
Instagram: https://www.instagram.com/lime_export_import_institute/
Twitter: https://twitter.com/Alpeshpatel1856
To Call us for our next batch of Import Export Classes, Call on our Helpline No. +91 – 82641 26323
#export #import #indiatoBrunei Darussalam  #exporttoBrunei Darussalam